Enhance your gaming performance during a competition
The path to mental liberation in gaming is to throw off any inhibiting code of honor which holds back your play and use all the psychological tactics that you consider to be cheap or unfair for yourself.
Depending on the scenario during the match, an individual split second decision must be made. Our gaming sleeves are designed to be a true extension for such situations. It provides you with more controlled swipes and flicks, to augment the speed of your reaction in battles.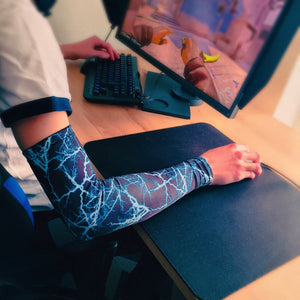 Reduce friction and build up consistent aim
We all know about the discomfort you encounter with your underarm and wrist against the mousepad. While this let you perform worse because of the high friction and the lack of stability, many people entail injuries in the long run.
Our esports gaming sleeves created after months of intense research and development to provide you a product which increase the smoothness of your mouse movement for perfect precision. It also reduce your potential for injuries, because of better blood circulation and faster muscle recovery.
You will become one with your mouse and move it faster, easier and start to build up more consistent aim than ever before!
⬆ RANK UP IN YOUR GAME ⬆
✔️ Increase Precision
✔️ Improve Accuracy
✔️ Reduce Friction
✔️ Build Up Muscle Memory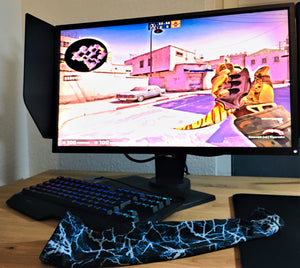 What are people saying about ConsistAim?
Great product and service. I use these for gaming on my pc (fortnite) and for workouts. They are really comfortable.

Kyle
Durch den Gamingsleeve bin ich bei CSGO zwei Ränge aufgestiegen.
Dazu schnelle Lieferzeit und top Qualität. Fühlt sich am Arm richtig angenehm an.
Nur zu empfehlen!

Sven
great products and improves my aim. thanks

Kressi
Top Produkte und super verarbeitet. Preis Leistung stimmt auf jeden Fall!

Markus S.